Schedule: Monday to Friday 09:30 - 14:00 & 15:00 - 17:30
Contact: info@cattscamera.com | Phone: +34 917 865 627

English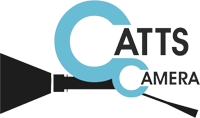 S-1173F 17.3-inch Full HD Waveform Studio LCD Monitor, S Plate
SWIT-S-1173FS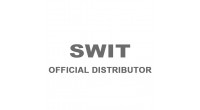 S-1173F 17.3-inch Full HD Waveform Studio LCD Monitor, S Plate
SWIT-S-1173FS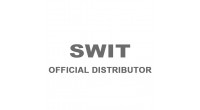 Have you seen it cheaper? Ask us for an offer!
Description
17.3-inch Full HD Studio LCD Monitor
AH-IPS LCD panel, LED backlight.
S-1173F adopts a 17.3 -inch IPS (In-Plane Switching) LCD panel, Full HD 1920×1080 resolution and LED backlight, 700:1 contrast for accurate color reproduction. The viewing angle is Horizontal: 160° / Vertical: 160°.
Multi-format Input/Output
S-1173F supports:
     - 2x 2K/3G/HD/SD-SDI input.
     - 2x 2K/3G/HD/SD-SDI loop.
     - 1x HDMI input.
     - 1x HDMI loop.
     - 1x YUV input.
     - 1x VGA input.
     - 1x CVBS input.
     - 1x CVBS loop.
     - 1x RS485 UMD input.
     - 1x RS485 UMD output.
     - 1x RS232C UMD input.
     - 1x RS485 GPI input.
     - 1x L/R analog audio input.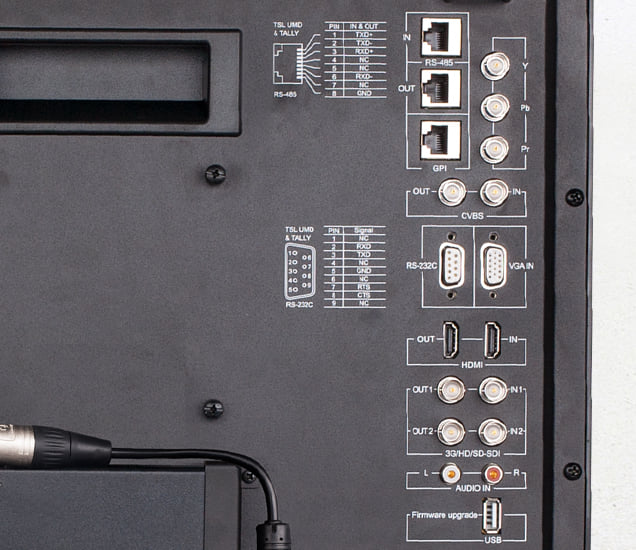 Video Analysis Assistant Pattern
Waveform / Vector scope / Histogram.
S-1173F supports video analysis assistant patterns includes: Waveform (Y/Pb/Pr/R/G/B), Vector scope, Histogram (R/G/B/Y), to convert the digital video quality info (Luma, Color, Saturation, etc) to patterns, and the patterns can be switched on/off individually, select display position (Up/Down/Left/Right), size, color, and translucence.

Embedded audio monitoring
Up to 16-ch meters with alert and select output.
S-1173F supports SDI-16ch and HDMI-8ch embedded audio meters display, with marks and audio abnormal alert info. Users can also select any 2 channels audio to output via 3.5mm socket or speakers.
The audio meter pattern position can be selected from Up/Down/Left/Right, and you can select to display only 2 channels, 8 channels, and full 16 channels.
Also scale markers, alert info, and translucent of the audio meter pattern are selectable.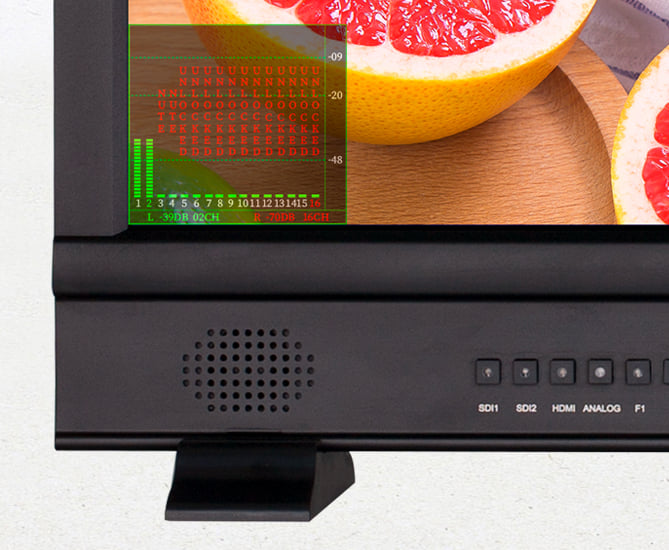 UMD and Text-Tally Display
TSL 3.1/4.0 Protocol.
S-1173F supports UMD and Text-Tally display of TSL 3.1/4.0 protocol, with 1-126 TSL address selection, and Max 8 letters displayed. The UMD inputs via RS485 or RS232C port and outputs via RS485 port.
Peaking, R/G/B/Mono only, Zebra, False color
Timecode, H/V delay, AFD, Scale Markers.

3DLUT Color Calibration
Built-in De-Log LUTs and User LUT upload.
Support 17x17x17 3DLUT accurate color calibration. Use professional color analyzer (KONICA MINOLTA CA310 e.g.) and 3DLUT calibration software (SpectralCal CalMAN5 e.g.) to measure and generate 3DLUT cube file to upload to the monitor by USB stick.
The monitor also has built-in camera logs to Rec 709 con- version LUTs, including Log-C, C-log, S-log2, S-log3, V-log, J-log1, RedLogFilm.
You can import own 3DLUTs to monitor by USB stick.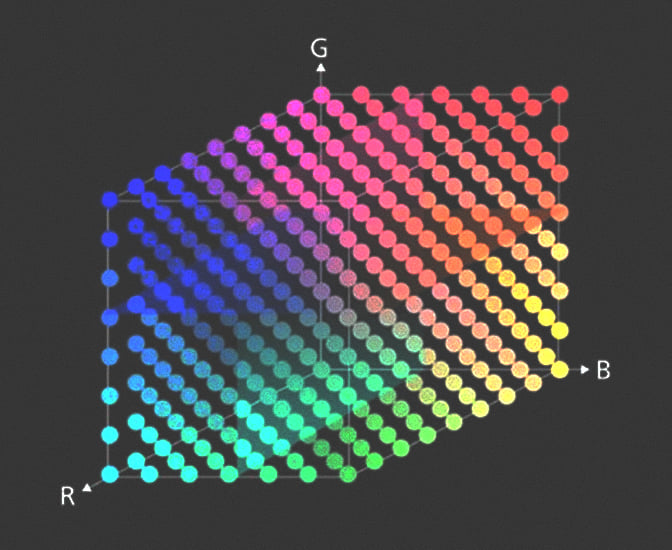 USB Firmware Upgrade
S-1173F provides a standard USB port for firmware upgrade. Users can download.
The latest firmware file to a USB stick, and directly insert into S-1173F monitor to upgrade, without PC connection.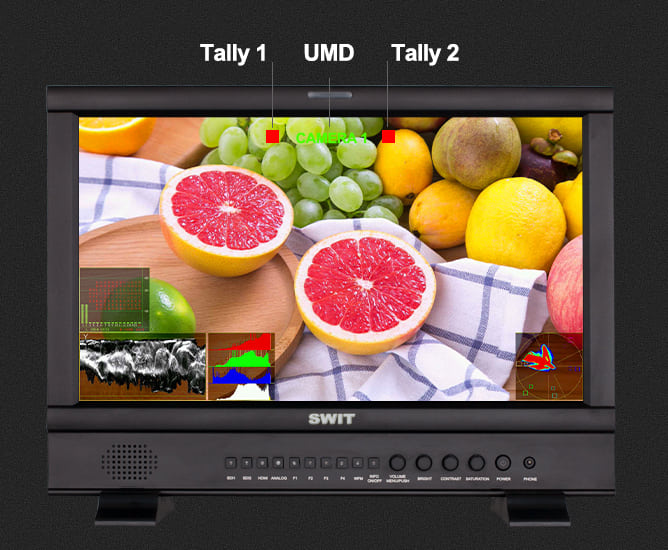 Multiple Power Sources
AC adaptor / V-mount / Gold mount.
S-1173F provides a 4-pin XLR socket of DC 11-17V power input, and V-mount or Gold mount plate for outdoor using.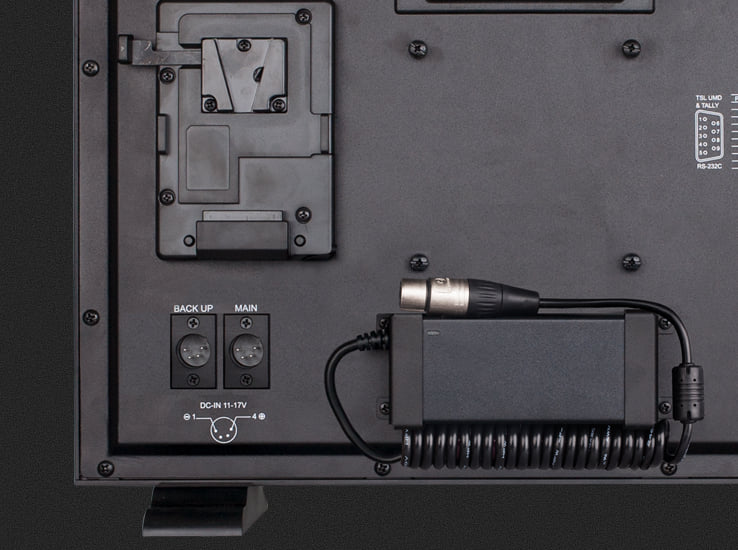 3-color TALLY Light
RS485 input signal.
There are three colors for the Tally light: Red, Green and Yellow. Users can define the pins of RS485 port to control the TALLY lights.
Features
LCD Performance
     - Size: 17.3 inches
     - Display area: 381.89×214.8mm
     - Resolution: 1920×1080
     - Aspect ratio: 16:9 (4:3 adjustable)
     - Brightness: 300cd/m2
     - Contrast: 700:1
     - Color depth: 16.77 million color
     - Viewing angle: 160°(H)∕160°(V)
Input
     - BNC ×2: 2k/3G/HD/SD-SDI input×2
     - BNC ×1: CVBS input
     - BNC ×3: Y/Pb/Pr input
     - HDMI ×1: HDMI input
     - RS485 ×2: GPI×1, UMD×1
     - RS232C ×1: UMD
     - VGA ×1: VGA input
     - RCA ×2: L/R audio input
     - USB ×1: USB input (firmware upgrade)
Output
     - BNC ×2: 2K/3G/HD/SD-SDI Loop output
     - BNC ×1: CVBS Loop output
     - HDMI ×1: HDMI Loop output
     - RS485 ×1: UMD×1
     - 3.5mm ×1: SDI/HDMI embedded audio output, analog audio output
Video Format
     - CVBS: NTSC∕PAL
     - SDI: 
          - 2048×1080p (60 / 59.94 / 50 / 30 / 29.97 / 25 / 24 / 23.98)
          - 1080p (60 / 59.94 / 50)
          - 1080i (60 / 59.94 / 50)
          - 1080p (30 / 29.97 / 25 / 24 / 23.98)
          - 1080psf (30 / 29.97 / 25 / 24 / 23.98)
          - 720p (60 / 59.94 / 50)
          - 480i (59.94)
          - 576i (50)
     - HDMI: 
          - 480i/ 576i / 480p / 576p
          - 1080i (60 / 59.94 / 50)
          - 720p (60 / 59.94 / 50)
          - 1080p (60 / 59.94 / 50 / 30 / 29.97 / 25 / 24 / 23.98)
Y/Pb/Pr: 
          - 480i/ 576i / 480p / 576p, 720p (50/60), 1080i (50/60), 1080p (50/60)
VGA:
          - 640×480 / 800×600 / 1024×768 / 1152×864 / 1280×768
          - 1280×960 / 1280×1024 / 1600×1200
General
     - Input voltage: AC: 100V-240V DC: 11V-17V
     - Power consumption: ≤32W
     - Working temperature: 0°C~+40°C
     - Working humidity: 10%~90%
     - Storage temperature: -15°C~+60°C
     - Storage humidity: 10%~90%
     - Dimensions: 430×310×73mm
     - Net weight (main body): Net 4.65kg
What is included
1x S-1173F 17.3-inch Full HD Waveform Studio LCD Monitor
1x 9-inch rack bracket
1x Desktop feet
1x AC-DC Adaptor
1x S-7004S (V-mount) / S-7004A (Gold mount) plate